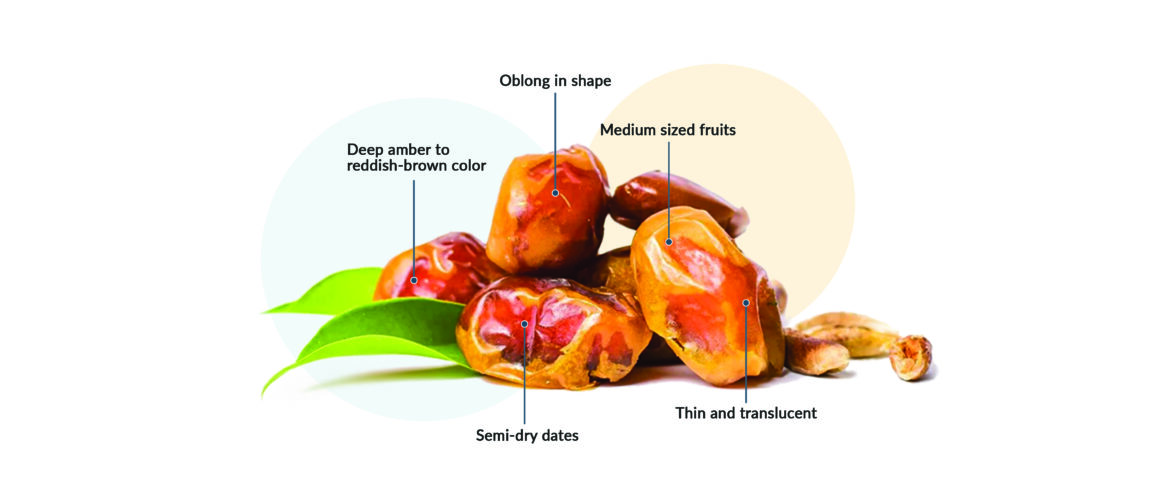 Dates have many vitamins and minerals, as well as high fiber content. Eating dates is linked with improved brain health and a lower risk of disease. Dates have become more popular in recent years, but many people do not know what to look for. In this article, we cover what makes the Khalas date variety unique.
Khalas dates and their difference to other varieties:
Khalas dates are native to Saudi Arabia, UAE, and Oman. They are commonly eaten in Arabic countries. The name, Khalas, is the Arabic term  for "stop" or "enough." Khalas dates are among the lighter-colored date varieties and are considered to be semi-dry dates, similar to Amry, Dayri, Sewy, and Zahidi dates. The moisture content is low in this variety compared to others and is only 20%.
As for appearance, Khalas dates are usually harvested mid-season when they are deep amber to reddish-brown color, contrasting to other varieties that take on a deep purple hue. These dates are typically harvested in their "rutab" or "tamr" stages. The flesh of Khalas dates is thin and translucent, and the date is considered to taste rich and delicious.  Khalas dates are mid-sized and oblong.
Khalas dates are high in many essential elements. These include Zinc, Copper, Manganese, and Selenium. When tested for these elements, researchers found that there were on average 2.9 milligrams (mg) of Manganese, 1.78 mg of Copper, 1.72 mg of Zinc, and 0.1 mg of Selenium per kilogram. These elements are important for maintaining internal health.
Khalas dates and their health benefits:
Khalas dates are thought to have wound healing properties. In a study where mice were given date extracts, mice given the Khalas dates healed more quickly than those who did not have the date extract. Khalas dates showed this property is greater than other date varieties.
Khalas dates have a glycemic index of about 55. People with diabetes given Khalas dates do not show significant changes in their blood sugar. This comes from the high fiber content, which is also essential for digestion and gut health.
Khalas dates also have high antioxidant levels. Antioxidants are known to help improve health and lower the risk of sickness.
Shopping for and storing Khalas dates:
Khalas dates are grown in Arabic countries and are very popular. These dates are available to buy at local markets in this region. In the United States, Khalas dates can be found at many health food stores. If you cannot find them in your grocery store, try checking out your local Middle Eastern supermarket or ordering online.
Khalas dates should be stored in an airtight container in the refrigerator or freezer. With proper storage, they have a shelf life of around 12 months.
How to cook with Khalas dates:
Khalas dates are delicious plain, in addition to making a great addition to both sweet and savory recipes. If you would like to take advantage of their sweet taste, some ideas to eat them include:
Soaked in hot water for 10 minutes to soften and then added to a smoothie
Chopped into tiny pieces and mixed into yogurts, granola, or baked into home goods
For a more savory cooking option, these dates can be wrapped in bacon and filled with goat cheese or your favorite go-to cheesy filling. They are also great chopped and added to salads to balance the flavor profiles. Try topping with blue cheese dressing for a delicious flavor combination!
Known for their potential healing properties and protection against sickness, Khalal dates can make a great addition to any diet. To boost your consumption of fruits and vegetables, try adding 100 grams–or approximately 5 to 7 dates–to your daily foods to reap amazing benefits.
Besides their sweet flavor, Khalas dates are high in many nutrients. They can last up to 12 months when stored correctly and are delicious in both sweet and savory dishes. Khalas dates are lighter in color and dryer than other varieties, but that hasn't taken away from the soft, tender texture of the date. For a great addition to your diet, don't miss out on Khalas dates.